The core of MoMAS® is the exit temperature measurement and control system which
is employed to maintain the exit temperature at a constant predetermined value.
At the beginning of every cycle, the measured temperature of the billet about to be pressed and limits and desired values of relevant process parameters are given as inputs to the algorithm. Using these inputs and also the runs of the measured profile temperature, billet temperature and ram speed, the algorithm calculates the runs of the optimal inputs for the following cycle.
MoMAS ® employs the iterative learning predictive feed- back and adaptive feed- forward control principles for the calculations. The extremely robust off- line open-loop control in conjunction with an on- line closed loop is employed for optimising the extrusion process. The off-line technique facilitates the application of non-causal filtering for lag-free smoothing of the pyrometer signal and the elimination of effects of the sluggishness of the extruder. At the same time existing safety measures are not influenced.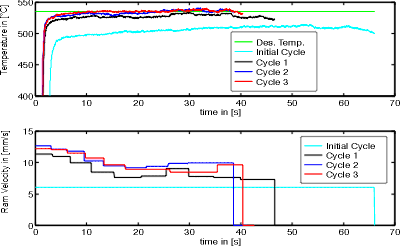 Runs of profile temperature and ram speed over cycles retrieved from the MoMAS Data base
To see the control process, just press here: Video
The paper describing the control and measurement techniques which form the core of MoMAS ® presented at the Extrusion Technology 2000 Conference in Chicago was adjudged 'Best Paper'. In the meantime various features have been added to the basic algorithms.

Certificate of Award for the paper describing the control and measurement techniques which form the core of MoMAS ®